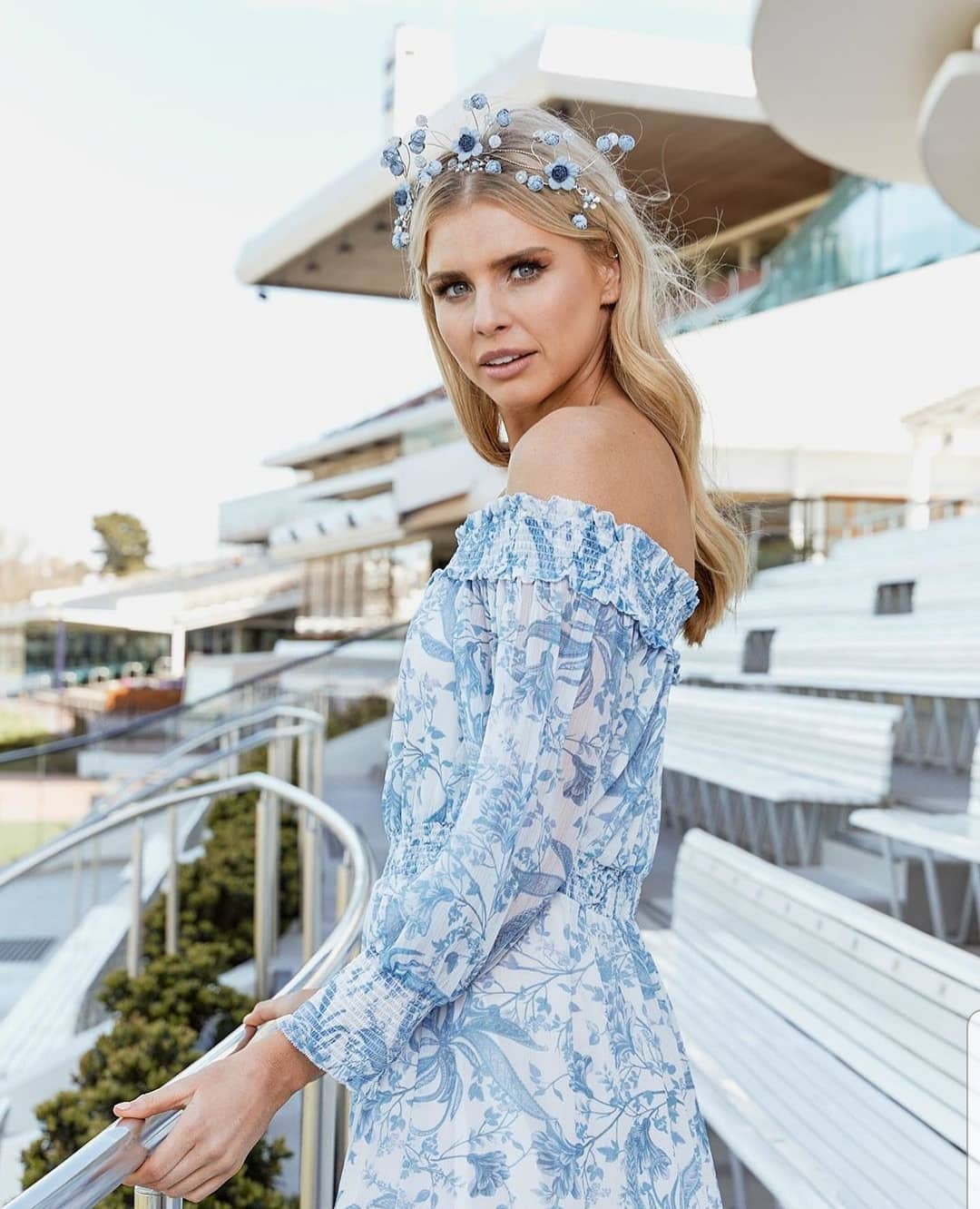 Spring Racing Carnival
Nail the Everest Day Dress Code With These Tips and Picks
blog
20 / Sep / 2023
5 min read
Did we see you curl up your nose at the thought of having to follow the Everest Day dress code? We totally get that! We're prime pushers of the #WearWhatYouLove agenda — but, you know, we think highly of traditions too. 
We see dressing up for a theme as a way to squeeze up our style juices instead of a death trap for creativity. It gives us the chance to inject our personality into a theme instead of starting from scratch, which can be amazing but also quite daunting.
So what should you wear to The Everest race day (or the Everest Cup) and how can you let your style shine? Read on for everything you need to know about looking your best for the biggest day of Sydney Everest Carnival.
What is The Everest dress code?
FORD MILLINERY friend Tegan Martin wearing "BLUEBIRD" 
Get ready to serve your best look — with a touch of blue. You don't need to go monochromatic from head to toe. We dare say that the easiest but most impactful way to stick to the racing fashion dress code is to put on a blue headpiece. 
Make your headwear — whether it's a blue embellished headband, blue fascinator, blue headpiece or blue dressy hat — the starting point for your look and team it with an airy, carefree dress. Et voila! You're good to go.
Styling tips from FORD MILLINERY Creative Director Chantelle Ford
If you're looking for more sage styling advice, our founder, millinery designer and style savant Chantelle Ford shares her thoughts below. 
How strictly should we follow dress codes for the Spring Racing Carnival events?
"At FORD MILLINERY, we are all for standing out in a crowd, but for the right reasons! If you #WearWhatYouLove that is always a good reason, but we suggest using the perimeters of Spring Racing Carnival dress codes as inspiration. There is so much fun to be had with the varying dress codes around Australia, and it can encourage us to stretch our creativity and perhaps explore colours or themes that we may otherwise shy away from.
Stand out with a blue headpiece like the "POPPY" (above) 
These days, it is rare to see fashion traditions stand the test of time for so many decades, and it could be argued that if those guidelines didn't exist — we would never have the opportunity to marvel at special occasion headwear or the intricacies of other fashion accessories on men and women during this time.
Logistically, the last thing you want when you're all frocked up is to be disallowed entry for breaking ground rules. It should also be noted that "themes" such as blue for Everest or black and white for Derby Day are guidelines… You won't get kicked out if you wear pink on those days for example! But for wearing no socks if the rules say you must — well, that's another story altogether, and I encourage you to check specific rules and regulations to ensure you're in the clear." 
What's one thing we shouldn't be caught dead wearing during Spring Racing Carnival?
"I'll caveat this with my sincere belief that if you #WearWhatYouLove, you will feel fabulous and other people's opinion won't even cross your mind! That said, the number one Spring Racing fashion crime in my book is not finishing an impeccable outfit with headwear! Without headwear, you're really wearing an every-day outfit that could be worn to a dressy picnic, a night out or any other place. Spring Racing is one of very few times of year that we can wear millinery — especially dressy wide brim hats and fascinators.
I understand that headwear is not an every day fashion accessory for some people, so feeling a little self-conscious or perhaps not knowing where to start is completely understandable! My advice to this small crowd is to try something small and simple, like an sleek padded headband or embellished headband. This will instantly elevate an outfit to be Spring Racing ready and is one of the most comfortable and easy-to-wear styles you can opt for.
Bonus, you can re-wear your padded headband with a casual skirt or jeans and a blazer for the perfect smart-casual look."
Blue headpieces to help you ace the Everest Day dress code
Ready to master your blue look for Spring Racing Carnival? These pieces are great to start with.
Which of these Everest Day picks are you eyeing?