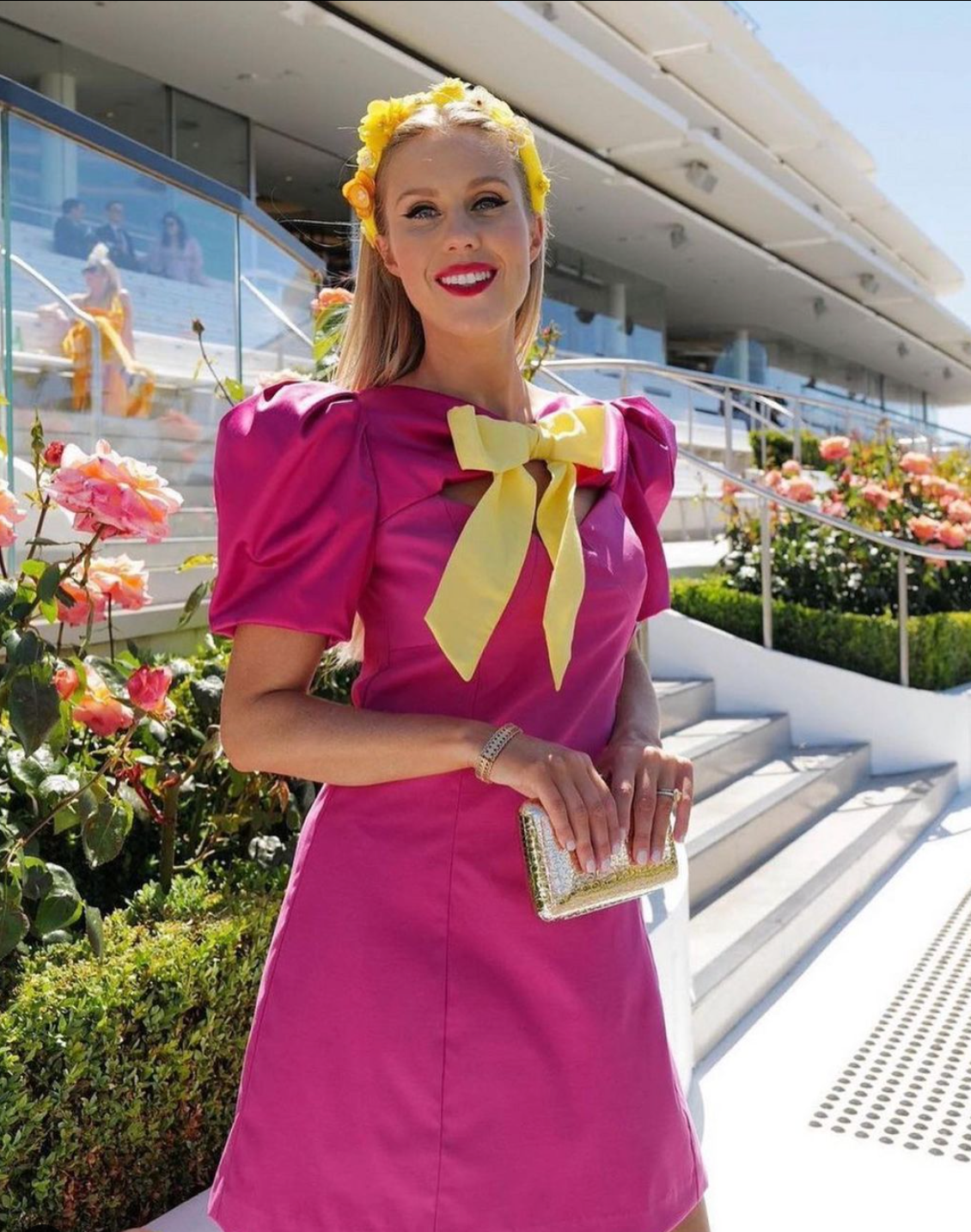 Derby DayFlemington VRCMelbourne CupMelbourne Cup CarnivalOaks DaySpring RacingSpring Racing CarnivalStakes Day
Melbourne Cup Carnival 2022: When Is It & What To Wear?
blog
24 / Sep / 2022
5 min read
Planning to buy Melbourne Cup 2022 tickets? FORD MILLINERY is here to help you navigate "When is Melbourne Cup 2022?" and what to wear to the races to nail each specific race day dress code.
YES! The 2022 Melbourne Cup Carnival is upon us, so it's time to get your Melbourne Cup dresses and millinery ready! But before you rally the troops and shop for Spring Racing outfits, you need to keep in mind that every race day has a very specific and different dress code / theme. What you wear to Melbourne Cup isn't the same as the Derby Day dress code. Fear not! FORD MILLINERY is here to help you navigate the Melbourne Cup Carnival dress codes to nail your Melbourne Cup fashion look...
Derby Day
Date: Saturday, 29 October 2022

Dress Code: Black & White
Being the first of the Melbourne Cup Carnival days, it makes it one of the most exciting! And going to Derby Day can only mean one thing – monochrome black and white fashion! "Can you wear colour to Derby Day?" you ask? Aside from a tiny detail like a coloured lip or metallic accessories (gold and silver headwear is fine), the simple answer is no... Derby Day is the one day we encourage you not to break the rules, because it will make you stand out for the wrong reasons. This may sound a little dull at first, but trust us, it's anything but! Derby Day is all about sleek and sophisticated looks, whether you choose to go all-white, all-black or a bold black & white contrast. Let's delve into the power of monochrome...


Whether you're on the hunt for a new Spring Racing outfit, or looking to pull a look you already have in the wardrobe, "CASSIDY" is here to level up your final look. A classic shallow black boater hat that is pre-mounted to a headband for an easy and comfortable wear, finished with black and white jacquard trim for a sleek touch of class to any Derby Day outfit.



Rihanna said it best, "shine bright like a diamond" and "MYRA" is ready to bring some bling to your look, this padded gunmetal headband is adorned with gorgeous crystal tassels on each side. This piece is giving us Whitney Houston in The Body Guard vibes- which is always a good fashion choice!


For a modern Derby Day fascinator, look no further than FORD MILLINERY's top-selling "POPPY", available in black or white... Perfect for turning your 2022 Spring Race Style up a notch. 
Melbourne Cup
Date: Tuesday, 1 November 2022

Dress Code: Bright, Bold & Fun!
It's the race that stops the nation and your outfit should too! The Melbourne Cup is known for its larger than life racing fashion, so opt for BIG, bright and bold colours and silhouettes (how else will you catch the eye of the 2022 Fashions on the Field judges?!). More than ever, the 2022 Spring Racing Fashion trend is FUN!
The "FRIDA" flower crown is the definition of Spring, with voluminous blooms adorned on a wide satin-covered headband (extra points for comfort!), plus it's crafted in various shades and tones to match any outfit. Available in 4 colour ways; reds, pinks/purples, yellows/oranges and whites/creams.
If sleek and refined is more your vibe, the "ANNIE" hat is the ultimate statement piece to finish your look. It's interchangeable headscarf feature offers you incredible versatility to tie in with any outfit (not to mention re-wearability for other race days by simply swapping out the scar!). For Melbourne Cup fashion, consider a bold colour with this beauty for a mysterious and tailored look, that will have everyone wondering "Who is their stylist, and can they dress me?!"
Ready for a showstopper? Look no further than "LOVE ME DO"! This iconic FORD MILLINERY love-heart headpiece is the epitome of fun, bold and colourful Melbourne Cup fashion... Available in 6 coloured bases - and we encourage a clash for 2022 spring racing!
Oaks Day
Date: Thursday, 3 November 2022

Dress Code: Feminine, pastel, florals
The main Fashions On The Field day for Melbourne Cup Carnival! So, what do you wear to Oaks Day? Think feminine, fancy florals and elegant looks. It's no wonder this first piece is one of fashion guru Donny Galella's go-to items! "DIANA" is the gold-toned and vegan pearl headpiece of your dreams. Not only will the pearls add a touch of class to your Oaks Day fashion, it is a versatile headpiece option to suit any Oaks Day outfit. (Side note: Available with or without chains)


Some of our other favourite Oaks Day headpieces (and best Oaks Day fashion looks in general!) include FRIDA (pastel)
Stakes Day
Date: Saturday, 5 November 2022

Dress Code: Garden party, dressy picnic, polo, family day, "Sunday best"
Wondering what to wear to Stakes Day at the Spring Racing Carnival? Stakes Day is the last day of the Melbourne Cup Carnival racing season and know as "Family Day". It's time to relax the tailored high fashion of the season and go for a more relaxed (in terms of dressy race wear!) vibe. Think Pretty Woman at the polo, day dresses, boater hats, matching family outfits, bows, flower crowns and essentially anything that makes you look your Sunday best on a Saturday!
Some Stakes Day fashion inspo for you...

Need help choosing your perfect Melbourne Cup Carnival headwear? Feel free to email us at info@fordmillinery.com.au and we will happily help guide you! xx